The first thing I see when I wake up is a shark. A thresher shark, to be exact. This type of shark, with its long, delicate tail as its defining feature, can be found in Malapascua, Cebu, Philippines. My family and I went there last year just to see those beauties. It was our first time to dive as a family: me, Nano, Uli, Kuya, and my dad. The photo I see everyday is extra special, because one of the greatest loves of my life bought it for me in an auction held in Thailand as a surprise. He knew how much I valued and took pride in our marine biodiversity.
It is so difficult to conserve and protect sharks because they're not cute like dolphins and turtles. Sharks are always depicted as "godless killing machines" (Oposa, U., 2011), even in Disney and Pixar movies. People narrate stories from movies with so much confidence–that sharks eat people, that sharks will eat you if they smell blood, and worse, that it's okay to eat sharks because they eat people, lalalalala. All FAKE FACTS. It doesn't help that institutions that are supposed to "raise awareness" and "promote marine education" are allowing these false images to perpetuate, like the Manila Ocean Park. I'm going there next week.
Now let's talk about what the movies DON'T say: that there are only about six-ten fatal shark attacks a year. To my knowledge, there hasn't even been a fatal shark attack in the Philippines. Ever. On the other hand, we humans kill 100 million sharks annually. That's like 10 million sharks: 1 human being. It makes me wonder what we did with the title "stewards of God's kingdom." Most of these sharks are killed for their fins. Their fins are sliced off, then they're thrown back into the water to die. We do that here, in our own country. In Cebu, Cagayan, Batangas.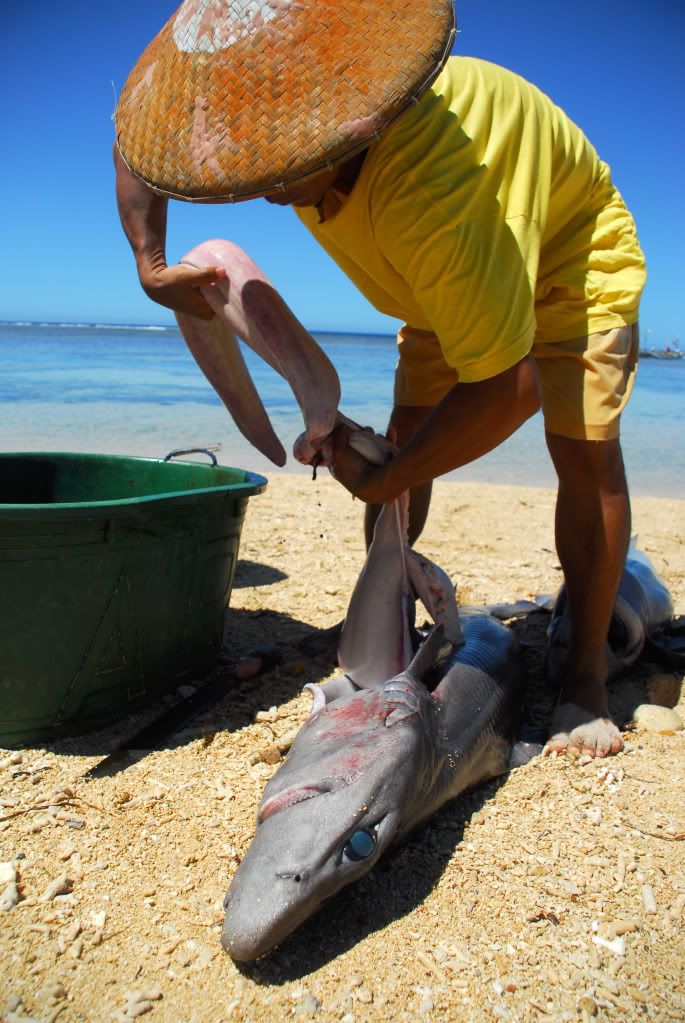 Movies don't tell you that sharks, as the apex of the marine ecosystem, are laden with mercury. So those expensive bowls of soup are laden with mercury. This can affect your brain, growing fetus (if preggerz), spinal cord, and liver. Mother Nature is sneaky that way.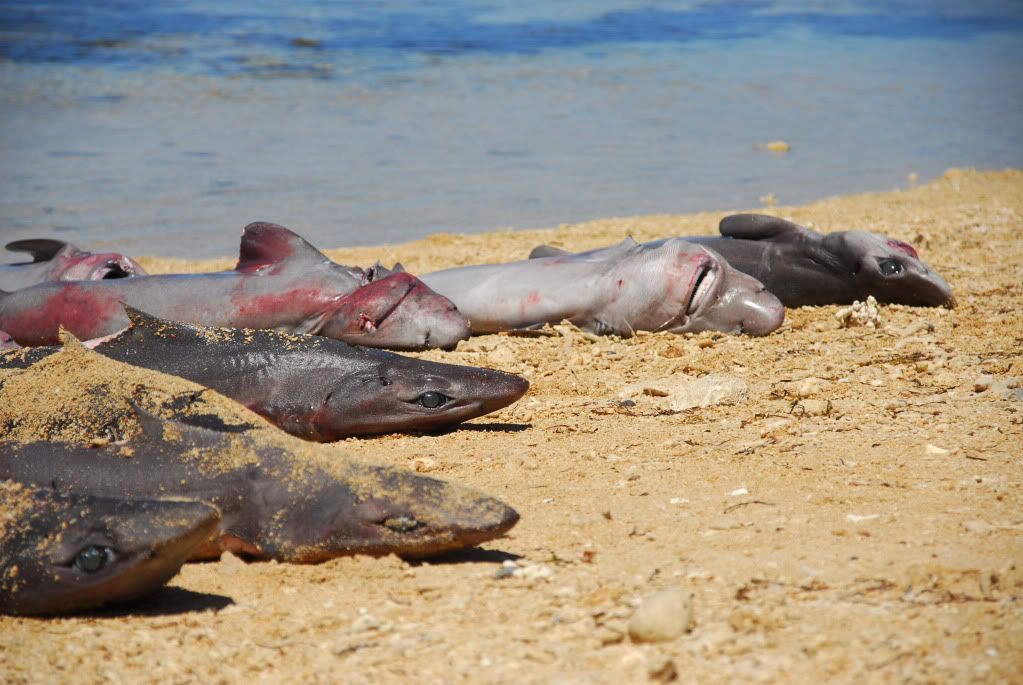 Oh. And there's an international market ordering sharks from us. Incredible.
This is so different from the situation in Southern Luzon. In Donsol, Bicol, the fishermen who used to kill whale sharks are now the tour guides and whale shark-watchers. In 2002, Donsol only had 867 tourists. When they started making efforts to protect these gentle giants, the number shot up to over 7, 000. Whale shark tourism has created over 300 jobs and contributed more than US$620,000 to our economy. Kabog! Whale sharks are the only sharks protected by Philippine law.
And yet, some people still don't learn. Just yesterday, a baby whale shark was found butchered on the shores of Antique. The award-winning photo below was taken in Anilao a couple of years ago.
Stories like this make me cry. What people don't realize is that by saving sharks, we're saving us. As the top of the food chain, they regulate everything else, down to the fish that eat planktons. Eradicating sharks can cause the entire marine ecosystem and biodiversity to go haywire. This includes us. After all, 70% of our oxygen comes from the sea.
The Chinese will say banning shark finning will be the end of a tradition. But how can a tradition continue if there will soon be no sharks? They were here 400 million years ago, we've only been around for a few hundred thousand, but shark population has declined by 90%. They're the perfect species of evolution. They have extra senses, like one that can detect our heartbeats through the sea. Speedo drew inspiration from the toothlike structure of their skin to create the Fastskin swimsuit. This kind of material has less drag and turbulence and more speed. Ding gave me her old Fastskin early this year. (Although on me it kinda looks more like Fatskin.)
To this day, there are absolutely no laws that protect all the other sharks other than the butanding. This is all going to change, soon. I promise. (But if I get shot soon… Alam na.) We need to learn to protect these species, and co-exist with them. The "stewards of God's creation" thing? We need to earn that title back.

esse est co-esse
to be is to be with
Happy World Oceans Day, friends, romance and countrymen. And an even happier Blog Action Day :)