December 19, 2011 - 9:00 am
Malapascua is a tiny dot in the map of the Philippines. It's north of Cebu, about five hours away from the mainland. Getting there from Manila means traveling by air, land, and water: an hour to Cebu by plane, 3-hour car ride to Maya, and a 1-hour boat trip to Malapascua. Our flight was delayed, which means Carlie and I were sitting on the plane for over an hour before takeoff. Nakakabato. Well, like I always say, okay lang delayed ang flight, BASTA WAG ANG PERIOD.
The sight of Malapascua will make any beachcomber's heart smile because of its gleaming white sand and coconut tree-fringed shores. It's being dubbed as "the next Boracay," which I think is more of an insult than a compliment. That's the worst fate any Philippine island can have. But I digress. The shore is only secondary to what lies beneath. Divers from all corners of the worlds fly to Malapascua with the sole desire to catch a glimpse of the thresher shark during an early morning dive.
SHARKIRA MODE ON: the thresher shark is known for its looooooooooooong tail, almost half of its body. Malapascua is one of the two places in the world where they interact regularly with wrasses to get cleaned (the other one is in the Bahamas yata). The hip-happenin' place a.k.a. cleaning station is called Monad Shoal, a short boat trip from Malapascua. My family and I first visited in May 2010, right after the elections. In one dive, we saw one thresher shark, a couple of manta rays, and about seven devil rays. This is considered a JACKPOT in the diving lottery. Ang swerte lang namin.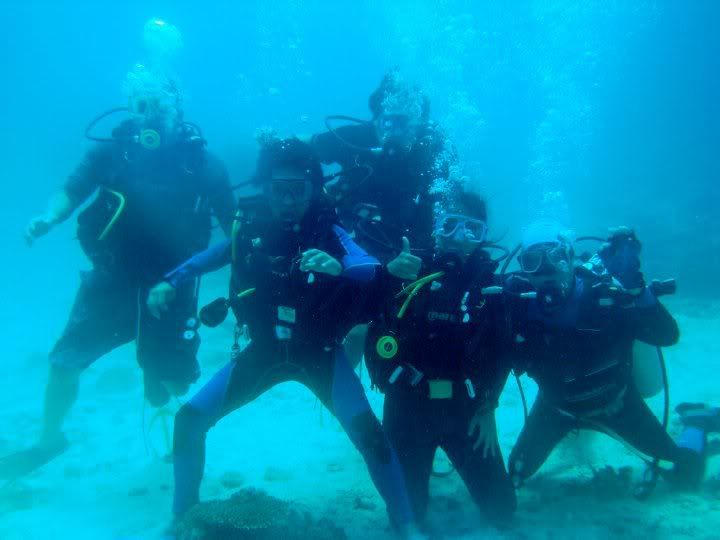 With my brothers and my dad
I was there again last week as one of the speakers for the Macro Underwater Photography Training by the Department of Tourism's Commission on Philippine Sports and Scuba Diving. This is an undervalued project of the DOT that I think needs more media mileage. Local dive guides are trained for spotting critters and underwater photography. We need more projects like this! The great Joel Uichico and Marissa Florendido took care of the underwater photography part since, errr, I don't even have an underwater camera. My assignment was a talk called "The Philippines is worth diving for" and a science communication workshop that Carlie entitled "ECOmmunication 101."
me: i love sharks. i just… do. i can't explain it.
medel: you don't have to.
PAKKKKKKKKKK!!!! Kilig. It's not everyday that I speak with shark lovers.
When we weren't hanging out in the training area, we were either underwater or interviewing people.
Before Dive #1: Sam and Medel, walking to the boat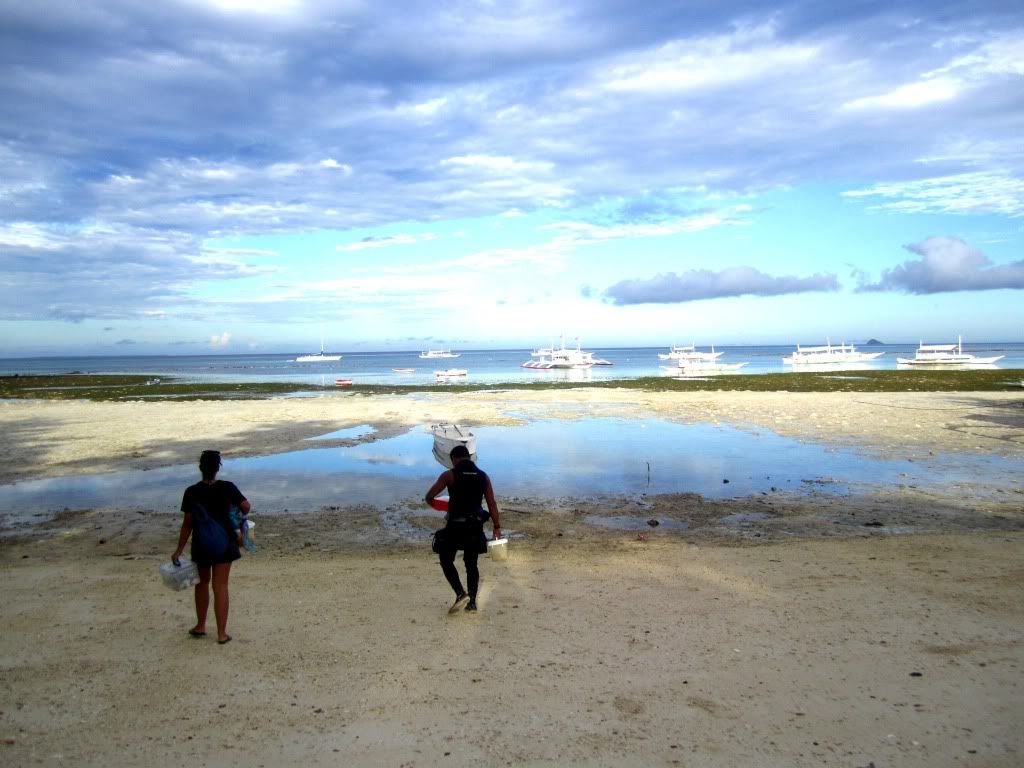 We did a shallow dive to test our buoyancy. HAYAYAY, it was my first time to hear dynamite fishing. Tang ina, AFRAID!!!!!! Sound travels faster underwater diba. It was like all the empty spaces of my body was occupied with a loud KABOOM. PUTANG INA TALAGA. It's difficult to tell the source of the explosion, which makes it even scarier.
Dive #2 was an early morning dive. Diving is one of the very few things that can get me out of bed willingly before 8AM. Luckily, my fellow divers (Pao, Adrien, Sam, Medel, Dennis, and Carlie) were easy to be with, making the 4AM wakeup call and 5:30AM dive bearable.
Hi Mr. Sun!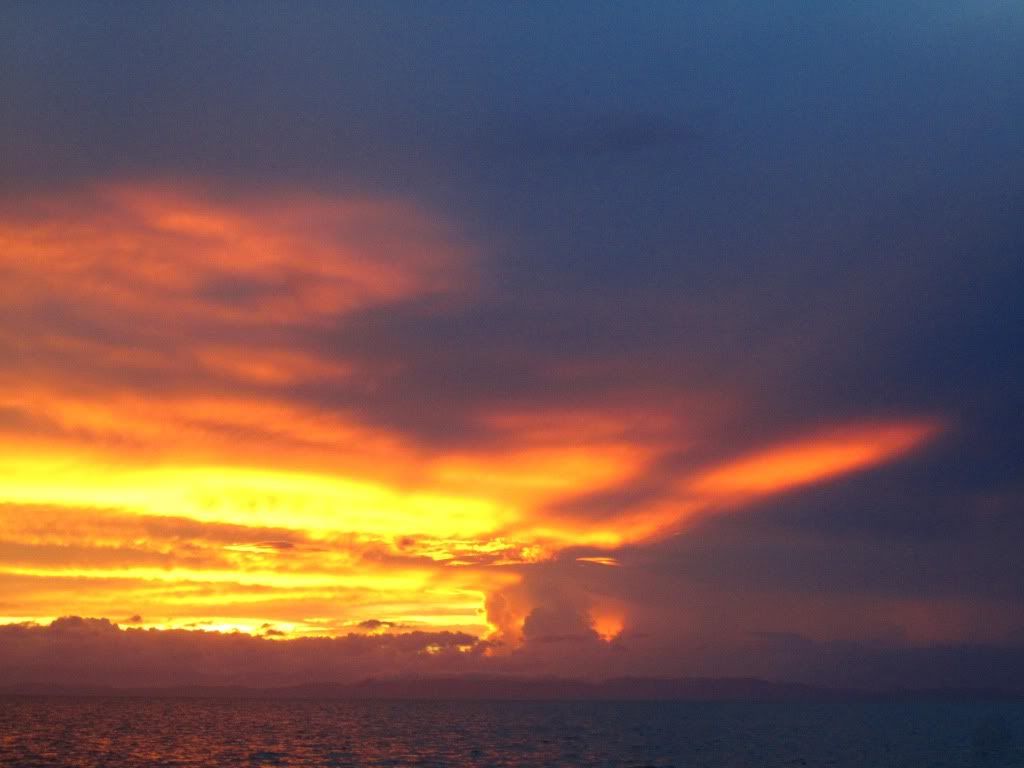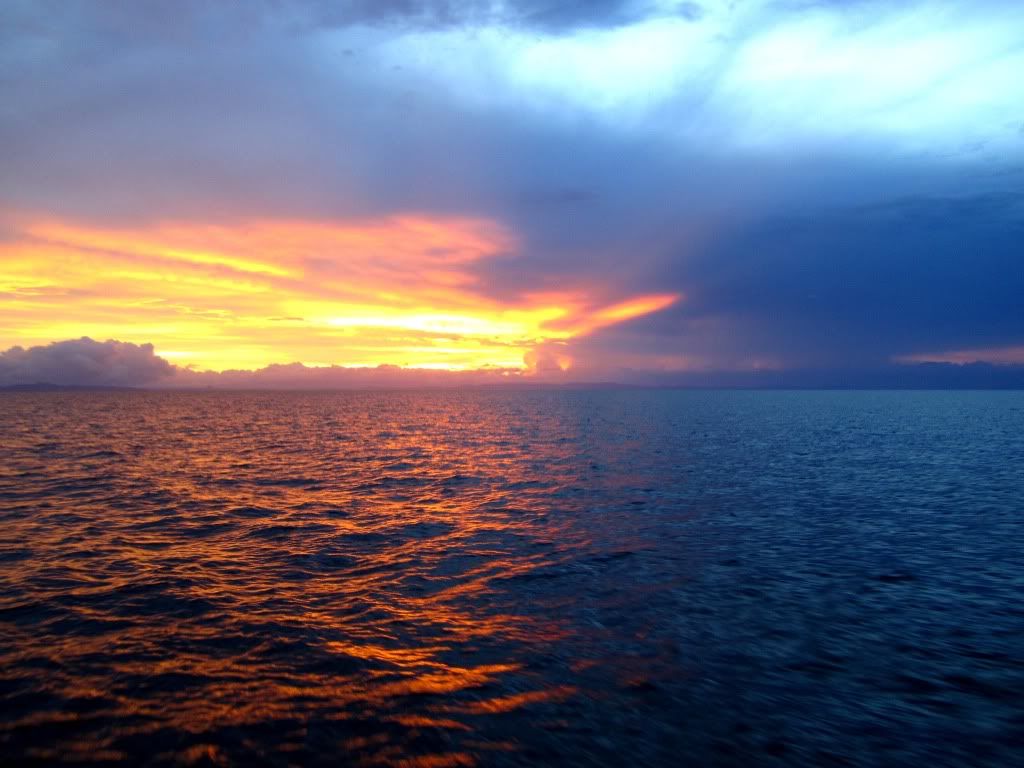 adrien (to sam): that's a good camera.
sam (british-filipino): oh yeah, it's quite nifty.
me: QUITE NIFTYYYYYYYY!!!!!! wow, no one says that here.
carlie: yeah, it will just sound like "kwayt nipttyyyy."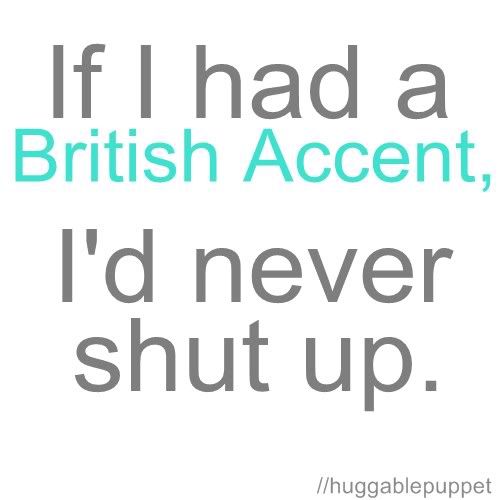 Photos from Sam and her quite nifty camera:
CROWN OF THORNS EATING CORALS AHHHHHH
At Monad Shoal
We saw one thresher shark!!!! I missed the two devil rays because they just kinda swung by as we were ascending.
Dive #2 and #3 were in Gato, a little farther away from Monad. Lots of soft corals, my favorite things to see underwater. It felt very… Avatar. There's an underground tunnel and huge reefs where the white tip sharks sleep during the day. We spotted about three sleeping white tip sharks and one swimming in circles. They're adorbs. Really.
We were on the boat with a couple of foreigners.
a conversation with someone from czech republic (CR)
me: where have you been since you arrived?
CR: negros, bohol, now here, and maybe boracay.
me: what's your favorite part so far?
CR: the people.
Wa-PAAAAAAKKKKKKKKKKKKK!!!!!
a conversation with someone from Denmark
escar: i know i'm in the philippines when i hear so much loud laughter! every time i come here i need to bring earplugs because the people always talk and laugh until the morning! when i watch you i don't even understand a word you are saying but i laugh because you laugh!
WAHAHAHAHAAAA. Sarap maging Pilipino.
In the same dive site, we saw dead fish that were left behind from the explosion. Pao showed us what it looked like inside: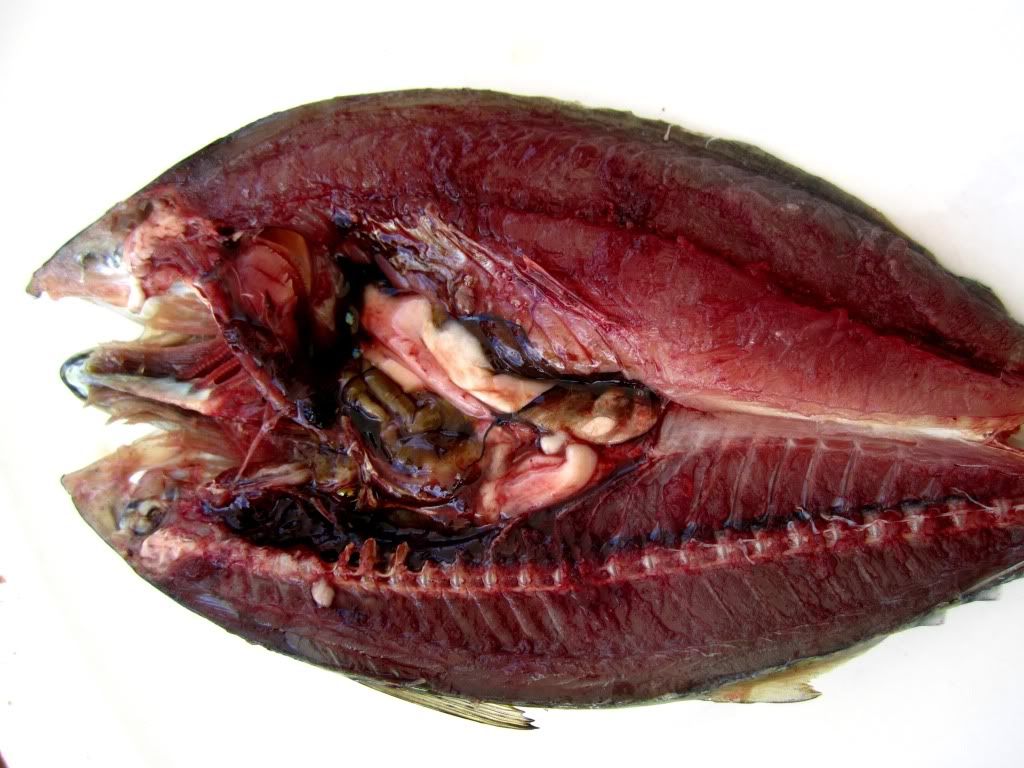 Obliterated intenstines. Ew.
Carlie and I spent a lot of time interviewing different stakeholders for a project under Save Philippine Seas. Whenever we felt overwhelmed by the amount of information, we would head to Angelina's, an Italian restaurant owned by a lovely Italian couple. My family and I ate in Angelina's last year, and we LOVED it. When we reminisce about our Malapascua getaway, we ALWAYS talk about the calzone and the thin crust pizza. The day before I left, my mom said, "Awww you're going to eat in that Italian restaurant!!!" So every night, Carlie and I would process the day's events over pizza and pasta at Angelina's.
(Photo of pizza and panacotta should be here but we were too busy eating)
You know, Malapascua is such a paradox. On the one hand, you have the only place in the world where thresher sharks, devil rays, and manta rays can be seen almost everyday, attracting divers from all over the world. But it's also where destructive fishing methods and political affairs seem to purposely get in the way of progress and protection of the reefs. I went there with a particular project in mind and left with a completely different one. It was a good reminder and wakeup call that a lot of work needs to be done. Onward, march!